Please follow and like us:
Do you know that you can easily make your website as a payment gateway? By default, your WordPress site does not come with credit card payment options, but there are many plugins and tools that can help solve that. In this article, I will show you how to accept credit card payments on your WordPress site.
Note: Make sure that your website is enabled with HTTPS/SSL to accept credit card payments.
Accepting Credit Card Payments Without Shopping Cards
Normally, your clients don't want to set up a full-fledged shopping cart to accept credit card payments. This makes a lot of sense especially if you're only selling a product or a service to accept payments.
To expose you to more opportunities, here are 5 ways shown in the videos below.
In this tutorial, we will be focusing on how to enable Stripe along with the Add-ons. What you need is an online order form with a credit card payment option.
Here is how you can easily accept credit card payments without adding a shopping cart to your website.
The first thing you need to do is install and activate the WP Form plugin. For more details, see our step by step guide on how to install a WordPress plugin.
If you are using WordPress.com, then you cannot install plugins. So you will need to move from WordPress.com to WordPress.org.
WPForms is the easiest and the most beginner friendly WordPress form builder plugin. While they have a Lite Version that's free, you will be needing their PRO plan to access the payment add-ons. Look at the pricing plans below:
The Pro version includes every feature you need along with the Addons and Stripe for activation of your payment cards.
Upon activation, you need to visit WPForms » Settings page to enter your license key. Find that information in your WPForms account area.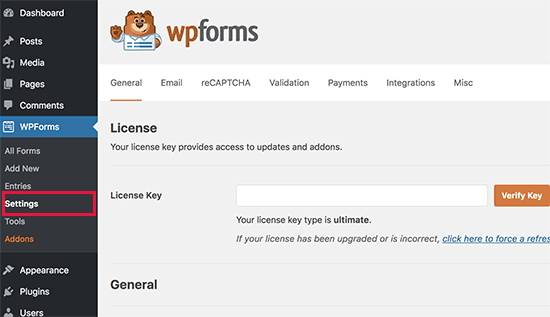 The next step you need is to head over to WPForms » Addons page and locate the Stripe addon. Go ahead and click on the 'Install Addon' button and then clicking on the 'Activate' button.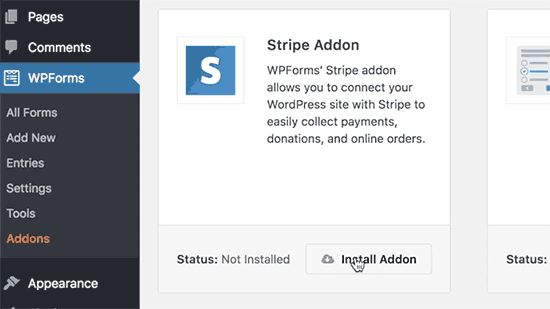 The Stripe is a credit-card processing platform that makes it easy for businesses to accept payments on their website. WPForms makes it easy to connect your WordPress website to Stripe which is just amazing!
After the Stripe addon is activated, you need to connect WPForms to your Stripe account. To do that, head over to WPForms » Settings page and click on the 'Payments' tab.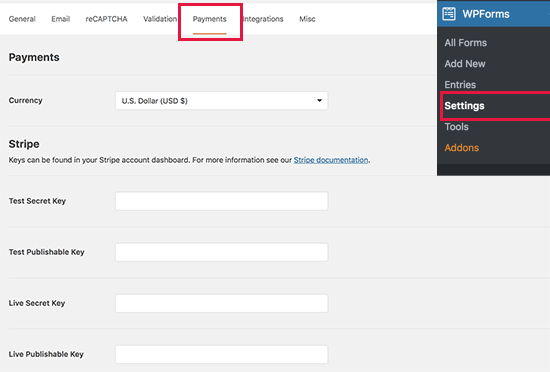 And then enter your Stripe API keys. Find this information in your account settings on the Stripe's website.
Always remember to click on the 'Save Settings' button to store your changes after entering the API keys.
So now your WPForms is ready to accept credit card payments. Next, we will create an online billing form that you can add to your website for accepting credit card payments.
To do that, head over to WPForms » Add New page. From here you need to give a title for your form and then select 'Billing / Order Form' template as shown in the image below:
You will also notice that WPForms pre-load the form builder with a billing/order form template with commonly used fields. Find the adjustment you want and click to edit any form field according to your preference. Find also add new fields from the left column.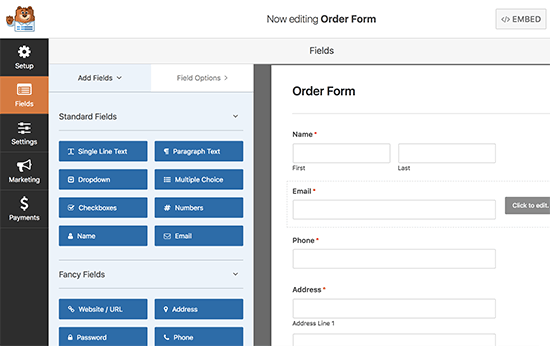 Next, scroll down to the Payment Fields section in the left column. From here you can add payment related form fields.
Find the add 'multiple items' as well as 'single items' that users can order. Find click on the item field to change item details and pricing.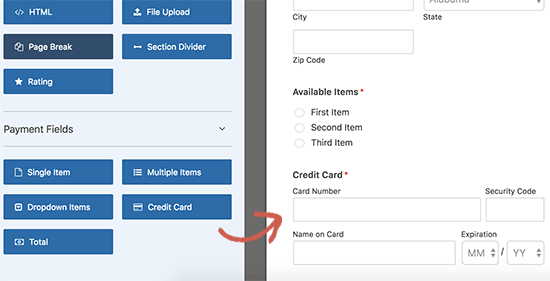 After editing item details, click to add the credit card field to your form shown by the arrow above.
This is how you set up your form. Next, let's enable payments for this form. To do that, you need to click on the Payments tab on the left and then select Stripe shown below: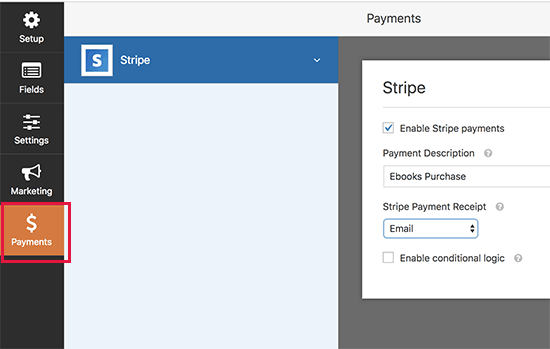 You will need to click on the checkbox next to 'Enable Stripe Payments' option and provide a short description of the payment. Optionally, you can email receipt to your users by selecting the email field from the drop-down menu.
Next, you may want to receive an email notification for new orders and purchases. So go ahead and enable a confirmation email to notify the user that you have received the order.
Setting up Notifications for Your Billing Form
Start with clicking the 'Settings' tab on the left and then select 'Notifications'. You will observe that WPForms has already created a notification that sends an email to your WordPress admin email address when a new order is placed.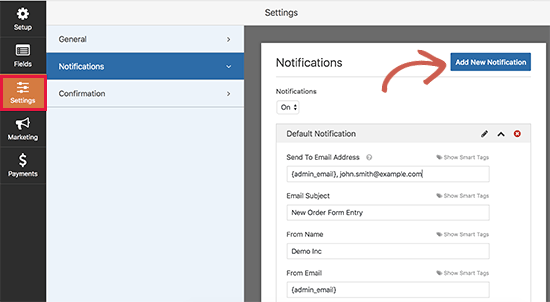 Find edit and re-edit the notification message. For instance, you can provide additional email addresses, change email copy, subject, etc.
When you want to send a separate notification to your users, then you may click on the 'Add New Notification' button and add what you want to send.
The system will ask you to provide a name for the new notification. Let's call it 'Customer Notification'. After that you will see the notification fields that you can edit as indicated by the pencil icon below: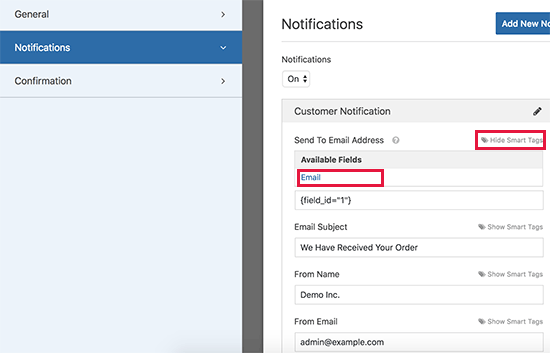 Find click on the 'Show Smart Tags' link next to 'Send to email address' option and select the 'Email' field. This allows WPForms to use the email address that your customer provided when submitting their form.
Find also use smart tags to use the form fields submitted by the user to add item details, user's name, and other personalized information.
Once you are done, you can click on the save button at the top and exit the form builder.
Your online credit card payment form is now ready for use, and you can add it to any WordPress page on your site.
Simply edit a page or create a new one, and then click on the 'Add Form' button above the page editor and that's it.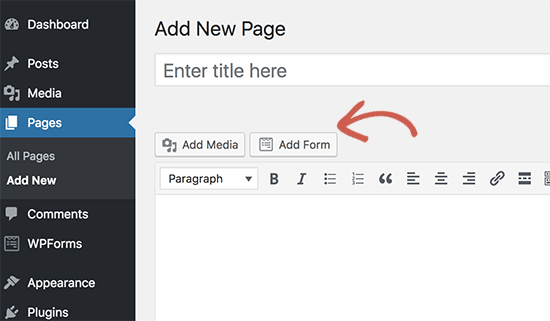 This brings up a popup where you can select the order form and click on form button to continue. WPForms will now enter the required shortcode to your post edit area.
Find now save or publish your page and click on the preview button to see your form in action and recheck it for any additional information.
Don't forget to test your form to make sure everything is working fine. If you are unable to send or receive email notifications, then follow the instructions given in the guide.
WPForms is simple to use and a convenient way to accept credit card payments, and it is also the easiest way to create just about any type of form in WordPress. WPForms has over 1 million active installs and a 4.9 out of 5-star rating average.
Using PayPal Addon
You also have another option to use PayPal to accept credit card payments by using the WPForms PayPal addon.
But a simple payment form isn't a perfect solution for everyone. Based on regional restrictions and other issues, you may need a different solution for accepting credit card payments on your website.
Here are some other ways to accept credit card payments in WordPress.
Accepting Credit Card Payments in an Online Store
If you want to add a shopping cart and sell multiple items, then you need an eCommerce plugin let's say, WooCommerce. It is the best eCommerce plugin. WooCommerce makes it easy to sell things online and accept credit card payments.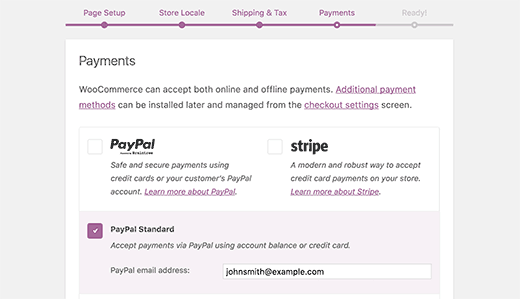 For complete step by step instructions, refer to this guide on how to open an online store in 6 simple steps.
Accept Credit Card Payments on a Membership Website
If you want to build a membership website to sell membership subscriptions and paid content, then you can try using MemberPress and check out their pricing as well. Checking out this site will definitely expand your online horizons and make you a Pro.
It is a very powerful WordPress membership plugin that easily integrates with Stripe, PayPal, etc. to accept credit card payments on your website.
Here is a complete guide that you can follow and duplicate on how to create a membership website for free and keep yourself ahead in the competition.
Find much more benefits by checking out how to sell online courses with WordPress with step by step instructions.
I hope this article helped you learn how to accept and process credit card payments in WordPress. You may also want to see what is CDN and which one is free?
If you liked this article, then please subscribe to our newsletter. You can also find me on Twitter and Facebook.
Spread the Good News and share the Love!
Please follow and like us: